Hydraroll Trailer Skate
Using dock driven elevated skates 15m long that pick up a pre-assembled load and in 1 minute load into a tracked trailer. This is a cost-effective solution for long distance factory warehouse shuttle operations and can load up to 30 tons.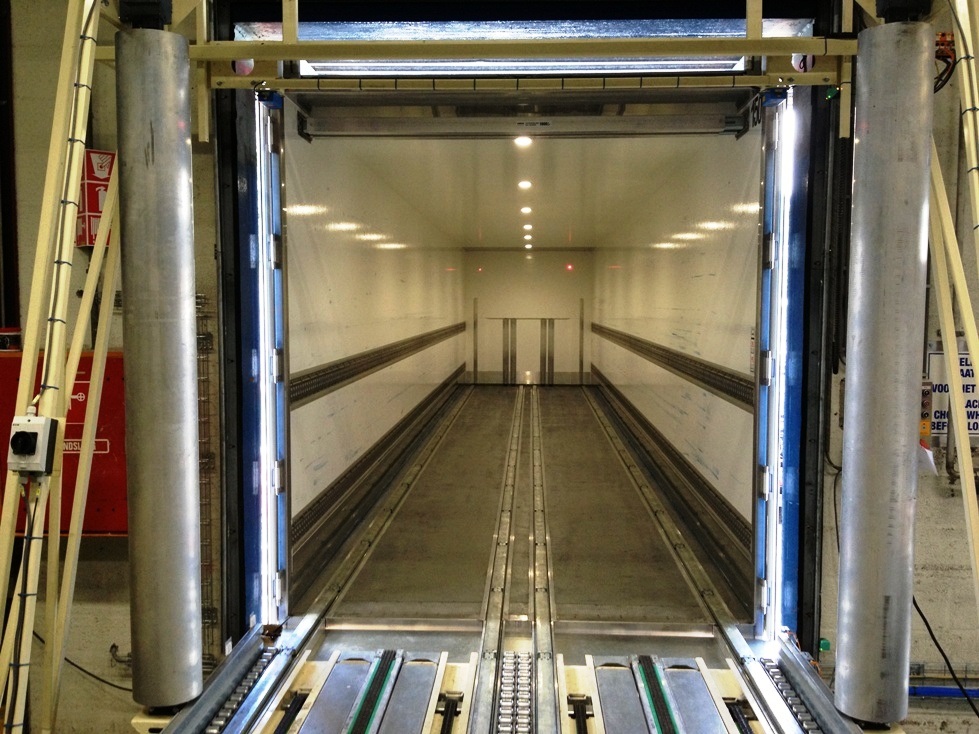 »

Load/Unload 26 pallets in less than 4 minutes with minimal vehicle modification

»

Reduces the number of vehicles required.

»

Frees up loading bay space for other more cost-effective uses.

»

Hydraroll is Europe's leading manufacturer of automated vehicle loading systems, with over 25 years of experience in the design, manufacture and installation of large integrated vehicle loading systems.
»

Total integration with conveyors and warehouse management systems.

»

Provides better maintenance of product temperature.

»

The Hydraroll TRAILER SKATE ® automated vehicle loading system is a patented product designed to withstand the most demanding applications in the manufacturing and distribution industry.
Hydraroll is the distributor of the TRAILER SKATE ® system and specializes in all aspects associated with the supply and installation of automated vehicle loading systems. Hydraroll conveyor equipment and vehicle loading systems have been integrated into the logistic chains of some of Europe's leading manufacturers and distribution companies.
Hydraroll TRAILER SKATE ® represents the latest development in automated vehicle loading, utilizing state of the art technology, while at the same time providing the reliability demanded by today's end of line systems.
Automated vehicle loading can be a vital link in any logistics chain improvement. Whether the requirement is for rapid vehicle turnaround times, reduction in fork lift truck activity and loading bay personnel or simply careful handling of fragile or unstable payloads, the Hydraroll TRAILER SKATE ® would play an important role in achieving these goals.
Operating the Hydraroll TRAILER SKATE ® could not be more straightforward. A complete vehicle load is assembled on the accumulation conveyor system. The vehicle driver then initiates loading by simply pressing a button on the operator control panel located on the conveyor close to the rear of the vehicle.
Once activated the Hydraroll TRAILER SKATE ® drives the complete load forward into the waiting vehicle. Steel channels in the trailer floor guide the skates. The in-fill floor between the channels provides a non-slip surface to support the pallets in the trailer, after the skates have been withdrawn. The Hydraroll TRAILER SKATE ® will load a 13.6 metre semi-trailer in less than 4 minutes.